the kitchen lounge


the parent's bed room

the shower


the kichen lounge

private
terrace

The ground floor apartment also has a private southern garden and terrace.
Watch your children play from the kitchen, or enjoy a barbecue outside.
The middle floor apartment should be handicapped accessible,
we will let that have checked soon...
The house and all rooms in the middle floor apartment can be reached without steps.
On the southern side there is a big balcony with a table.
a modern kitchen


the dining table



the parent's bedroom

The comfortable mansard apartment with balkony for 4 persons.
---
availability
---
All prices per apartment per night. Not included: € 70.- final cleaning, € 9.- per person and stay for linnen and towels, visiters tax ( age and season dependent). Other times are possible too. Especially off season we are very flexible. Even literally 'Last Minute' is can be done in some cases.
---
our folder
---
The apartments are fully equipped with:
dishes, watercooker, microwave, toaster, fridge, dish washer, radio, digital sat-tv,
high speed internet, 3000kBits/sec, unlimited volume,
free use of network laser printer,
one hardware firewall per flat for maximum internet security,
and much more. Ask for the inventory list for details.
---
Plenty of things to do
all summer
---
hiking, the next mountain cabin is just 30 minutes away, mountain biking,
swimming in the famous Carinthian lakes down in the valley,
the sea is about 1.5 hrs drive away - if you like a change,
great area for hobby geologists ( Geotrail),
culture: this corner is a very interesting area with many different cultures in one spot,
great biking routes, especially down in Italy there are great opportunities,
ski right from your doorstep,
crosscountry skiing,
just 20 minutes walk and you are in Italy, where you can enjoy Italian cuisine,
simply relax,
pick wild fruits and mushrooms, see the Wulfenia which only grows here,
rent fun sport equipment,
etc.


a small pice of Garnitzenklamm


kids climbing ( free entry)

hiking tracks from Tresdorfer Alp, 15 minutes walk from house Erika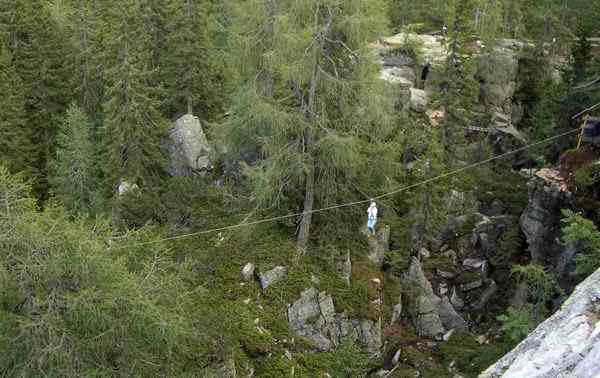 flying fox meile in the labyrinth of rocks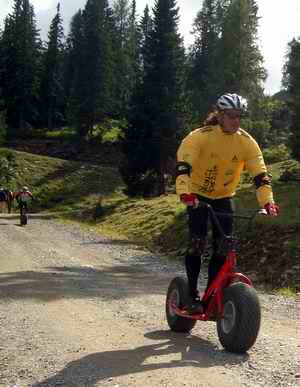 a blue day
(a day pass to check out lot of fun equipment and activities)
Haus Erika, in the middle of a great hiking area. ( Nassfeld sommer prospekt)
hey fever ?
allergic person ?
tele worker ?
Allergic subjects can spend a great time free of disorders at House Erika, up in the mountains, 1500m NN.

Teleworkers can work from here. Despite having your office right between the alp cottages you will have free high speed internet and even the postman will bring your packages right to your doorstep. Enjoy fresh air, lots of activities, peaceful environment, charge new energy every time you take a break.
Find a 18 hole golf course in Kirchbach ( ca. 20 km drive) -> Golfplatz .
Static IP for effective VPN setup!
unlimited volume, 3000kbits/sec
free use of laser printer ( please bring paper)

Your Alp-Office!

from € 44.- per day and apartment(*)
(*) prices change according to season
Mountain Office

Remote workers - watch this!

An office in the middle of the mountains


Who wouldn't love to have an office up in the mountains? Open the windows, take a reviving breath of freah air. Take a break and do some hiking in this beatiful nature.
We offer a seperated office, complete with free unlimited high speed internet an laser printer. Just bring your laptop and let creativity work.
Even though you work at an elevation of 1500m, almost 1000m above the valley, you can receive letters and parcels.

We also offer static IP for efficient VPN.
Please bring some printer paper, since it might run out.


Feel how good work can be in the right environment!

Your mountain office!

from € 44.- per day, complete with apartment and all our usual offers

Please let us know if you want to use our offer as an office do we can prepare everything for you!


Boarding house / Boardinghaus
Mountain climate !!!

A fountain of youth for body and soul

According to studies the a little thin air at this altitude stimulates health a lot. The optimal effect is between 1300m and 200m N.N. House Erika is situated at an altitude of 1500m, just perfect!

The best effect is gained when relaxing for the first two days, then start slowly with hiking and other activities.

The health advantages according to the studies:

raised blood pressure is lowered
lipid metabolism works better
loose wight without changing eating habits
better blood sugar and lipoprotein metabolism
stem cells spawn
hthe rhythm of the heart becomes more accurate
people feel happier and healthier in general

Even when the heat is a pleage in the valley - up in the mountains it never gets really hot and cools down at night comfortably.

Open the windows and enjoy healthy mountain air!
---
How to get to Nassfeld
---
GPS Coordinates: 46°34.0608'N 13°16.1568'E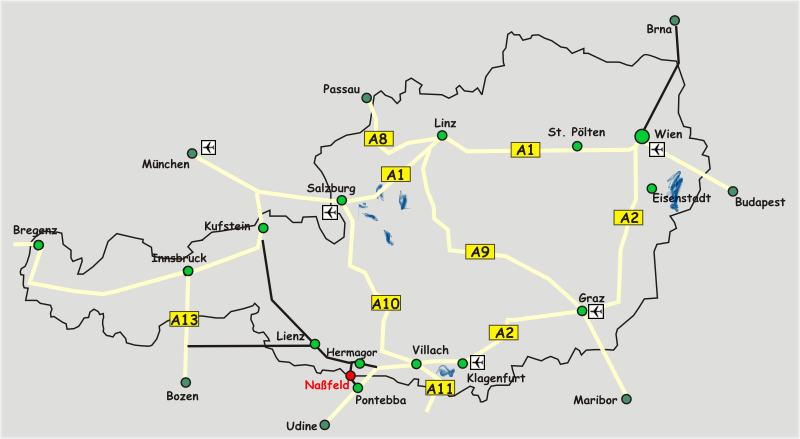 the last 10 km, up the mountain